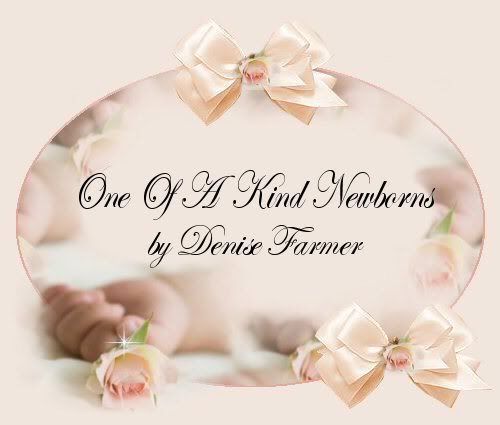 professional Sculpting and Reborn Doll Artist
with over  4 years  Experience.
"I want to wish  everyone a Happy
 Healthy New year!"

Im now Offering a 12 month payment plan
Proudly Presenting
                                                       Emmaline (By Donna Lee)
                             Reborn by Professional Doll Artist ...
                                                        Denise Farmer
                                              Weight.......... 5lb.3.5oz
                                            Date of birth... 7th- Jan-2009
length.................20 inches
                         (Emmaline has 3/4 sculpted arms and  legs)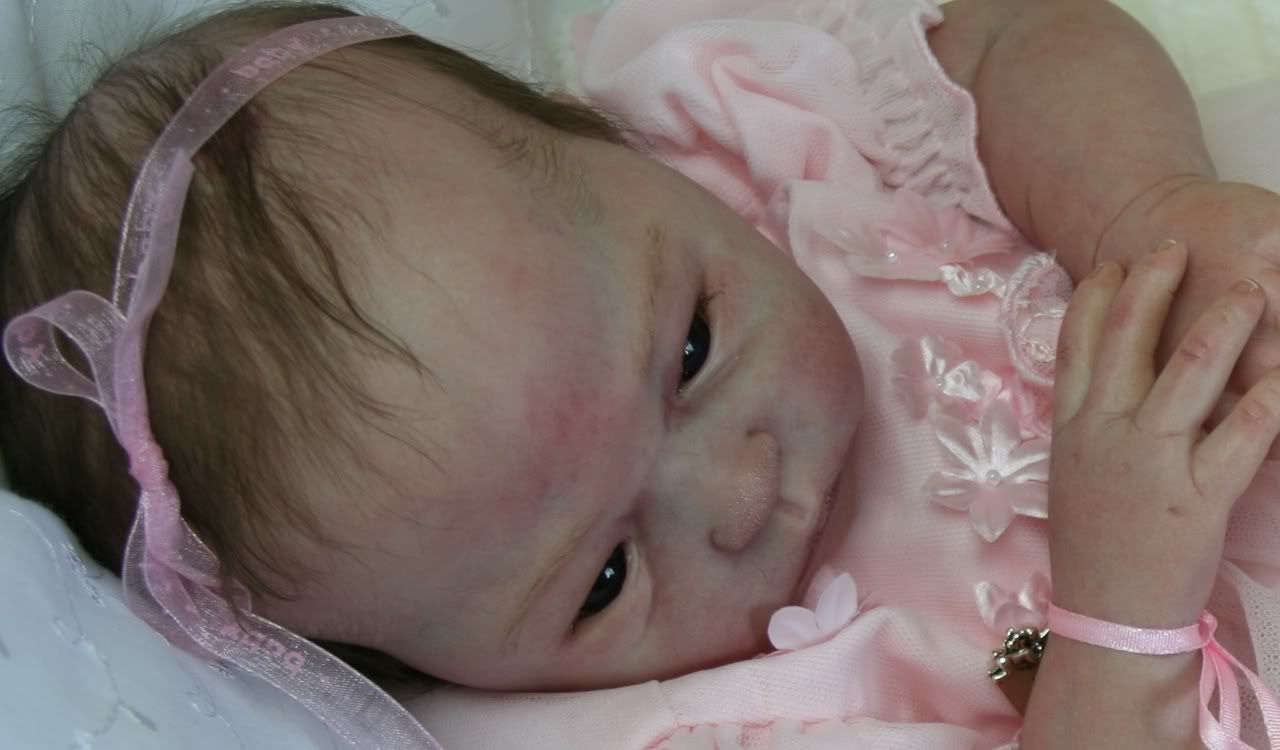 If your looking  for the ultimate in realism
 look no further..
Could this be the  baby of your dreams??!
Id like to Introduce Gorgeous  newborn  Emmaline,
Emmaline is the Prototype of a soon to  be released vinyl doll kit
By  Renown Doll artist Donna Lee
of Donna Lee Originals
I want to thank Donna for asking me to reborn
the protoype  kit of Emmaline,
her beauty and  sweet innocence will melt your heart 
I cant pass by this little Angels  crib without scooping her up
for  a Kisses and cuddles.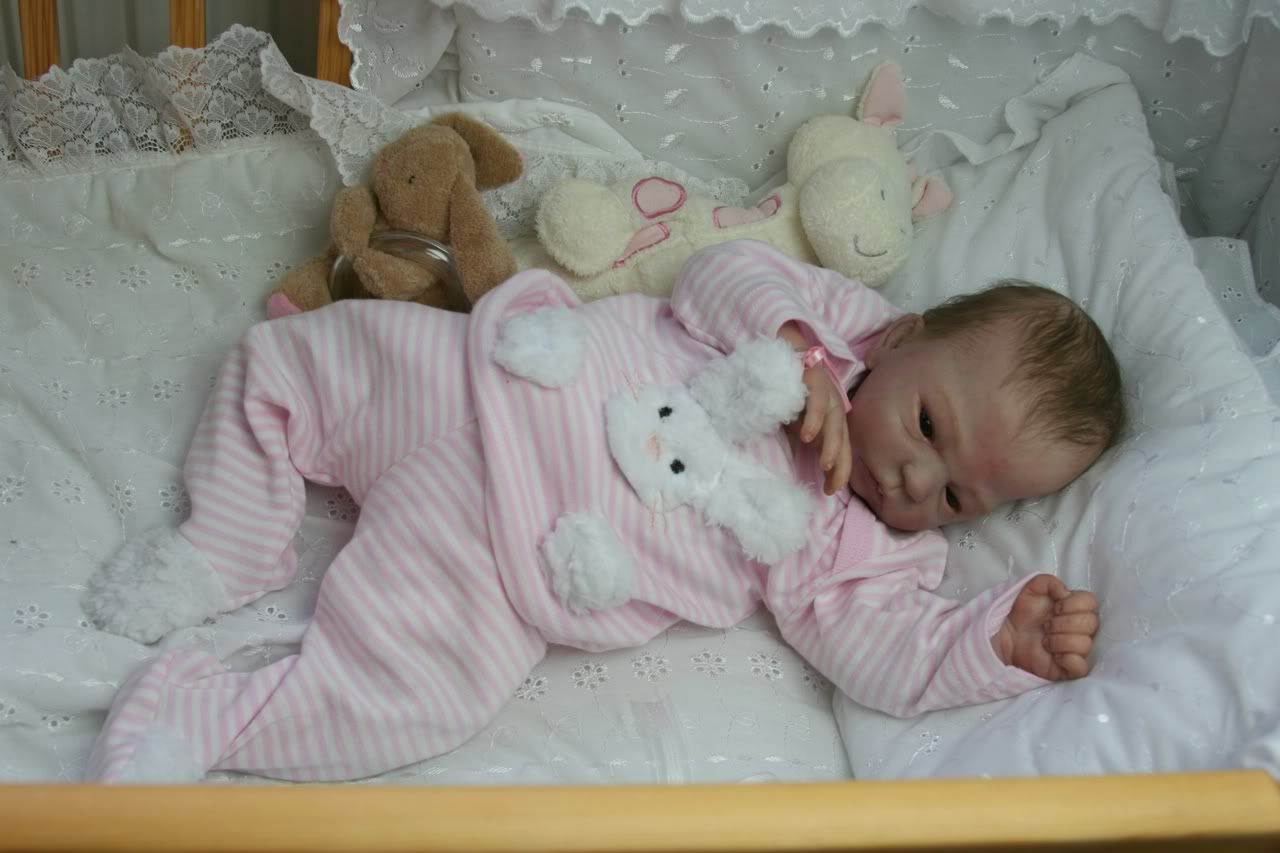 Photographs  really don't do Emmaline  justice !!
She  really needs to be seen to be believed !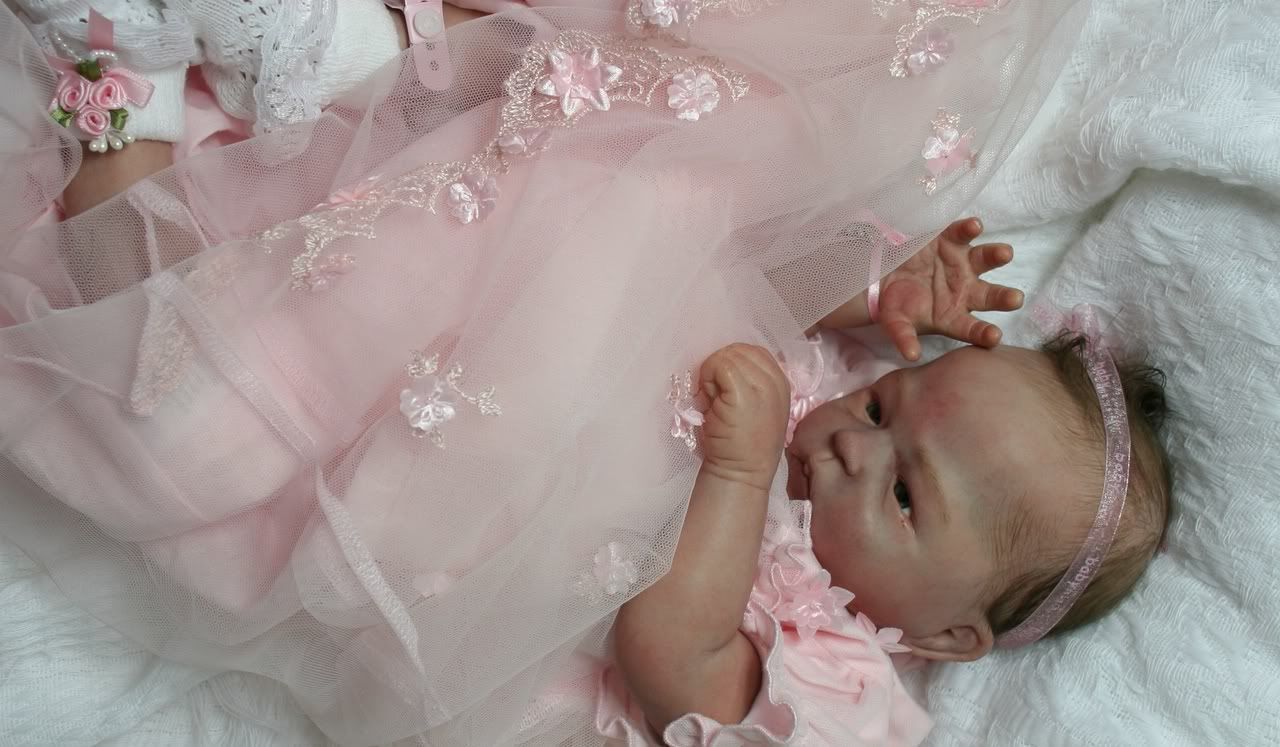 This precious  Newborn baby  Girl  really is a must have
for the serious doll collector 
She comes with the most   exquisite   layette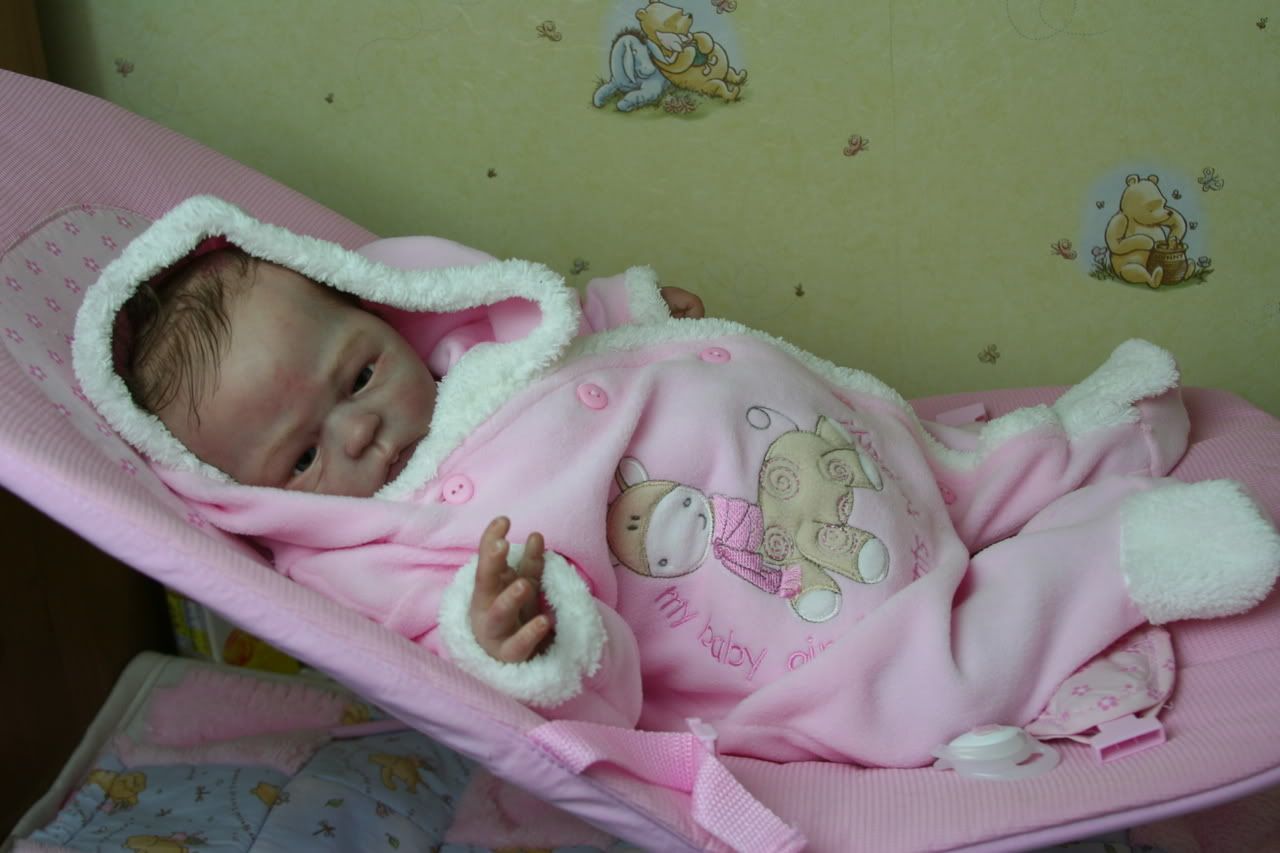 The ultimate in realism is what I strive for with every one of my reborns.
I'm always trying to take the realism one step further,
many hours are spent on painting and perfecting the skin tones
and texture,
 I'm not afraid to take close up photographs
believe me what you see is what you get.
as an artist that aspect is very important to me,
I'm confident who ever is lucky enough to become Emmaline's new Mummy
will not be disappointed with her.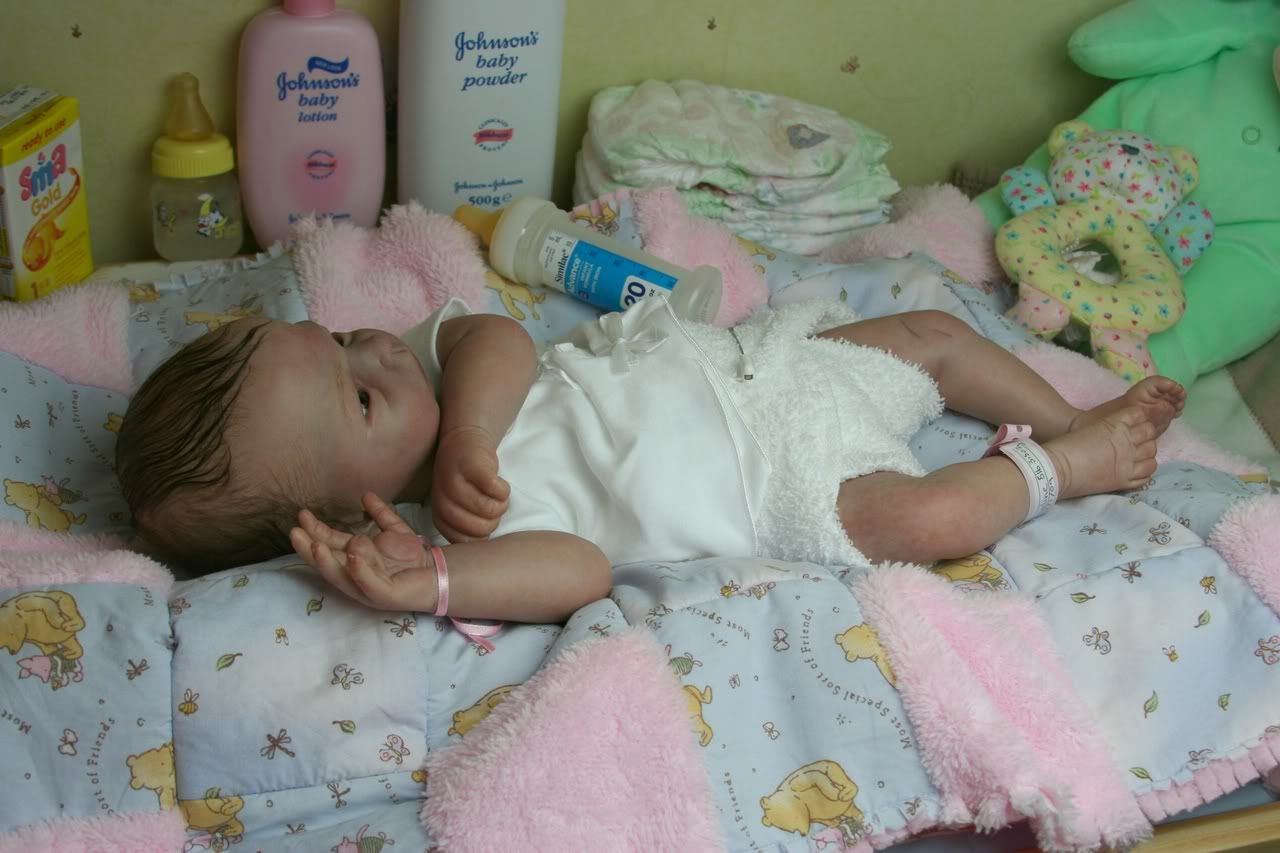 Emmaline has  a combination of micro- rooted and painted hair
I Choose  a  beautiful  Dark brown  hair for Emma by Delta Dawn
which ive  micro-rooted  into  her  detailed scalp.
 I used a beautiful top quality mohair
(Only the very best for my babies.)
The hair is so soft and baby fine,
Emma's hair has been directionally rooted,
with a true rooted  crown swirl,
the hair is held secure in her head with waterproof glue .
I'm very proud of my rooting and feel the many hours spent
perfecting the baby's hair is so worth the
extra time and effort  spent.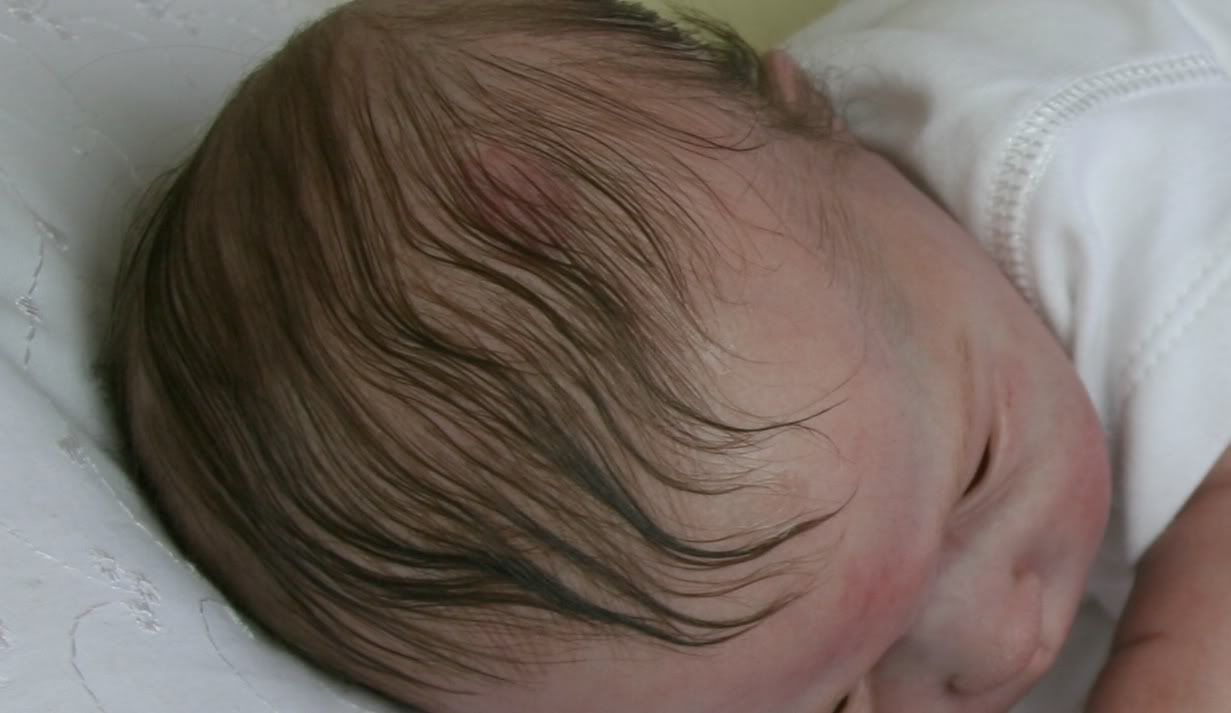 Emmaline  has a very detailed scalp complete with  veins and
tiny birthmark.

I created Emmaline's life-like skin tone
Using Genesis heat set paints, that will never fade,
I used several  sheer layers of paint
 to build up a skin texture
With true depth and translucency.
painting takes  me several days and every one of my
babies are  painted slightly different
I've pulled out all the stops creating this baby,
taking the time to give her  a truly life-like appearance   
Ive  spent a lot of time perfecting the  skin tones,
not stopping until her skin
actually looked as real as I could possibly make it. .
I've blushed and highlighted all her baby creases,
And Cute   little wrinkles,
she has subtle capillary veins 
and  realistic  blue veining showing just beneath the  skin
on her head and limbs.she
 has 3 dimensional milk spots on her nose
and a few baby spots,
Ive given a mottled appearance to Emmaline's  life- like limbs .
all adding to her realism and the illusion that what you are seeing and holding in your arms is
a real living breathing  Newborn baby  Girl, 
Emmaline   is so easy to love  she   really pulls at your heart strings,
and brings out your  maternal nurturing instincts.
Emmaline's skin has a plump silky radiance about it,
Not dry or chalky as sometimes can occur
When using the Genesis finishing varnish.
I believe my techniques
help make Emma  look and feel as real as can be,
I work so hard at perfecting the skin tones on my babies
aiming for  a true depth to the skin .
You won't believe this baby Girl isn't breathing!!!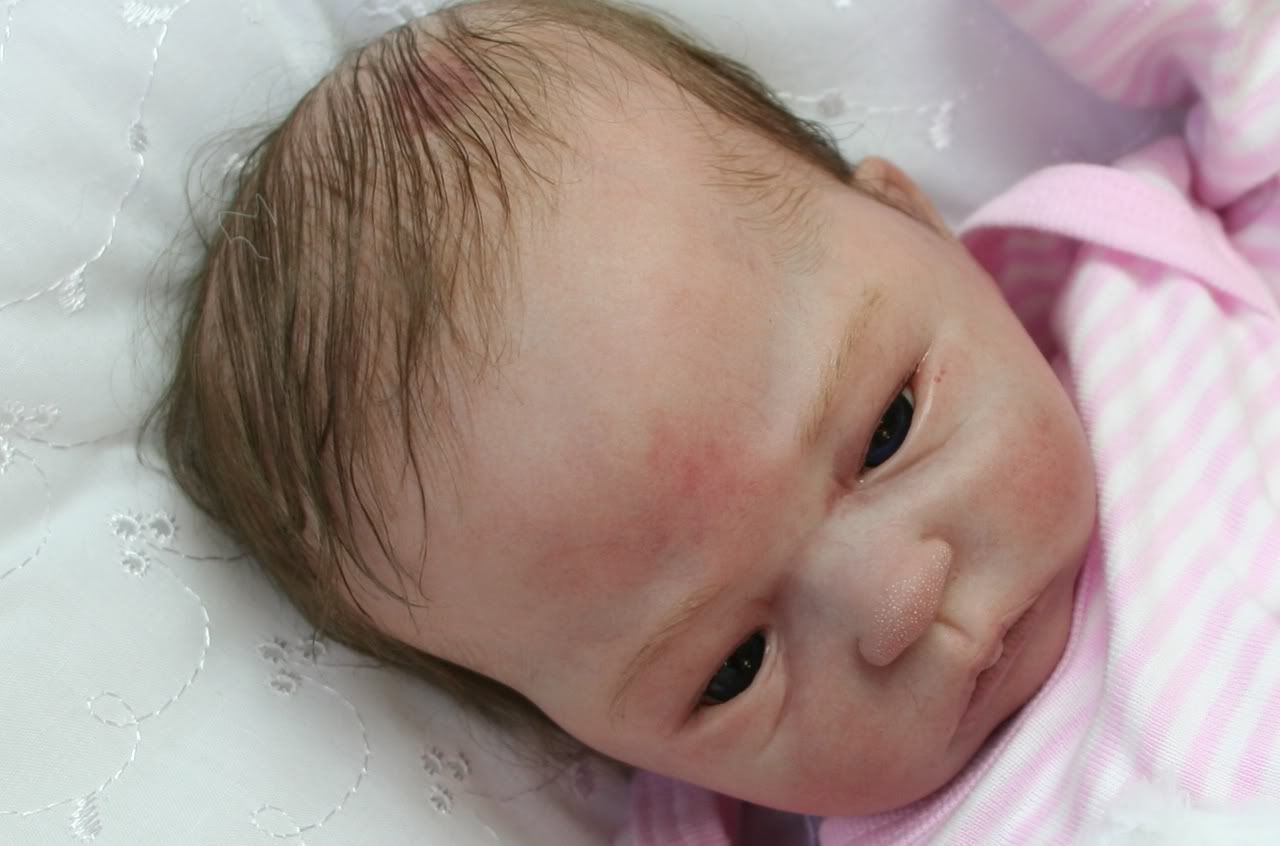 Emmaline  has the most Beautiful  eyes in a dark dark blue
fitting with a  Brand New baby
Ive framed her  sweet  eyes with tiny eyelashes
Emmaline 's  eyebrows have been meticulously painted
using various shades of heat set paints
then finished in way that makes them
look 3 Dimensional!!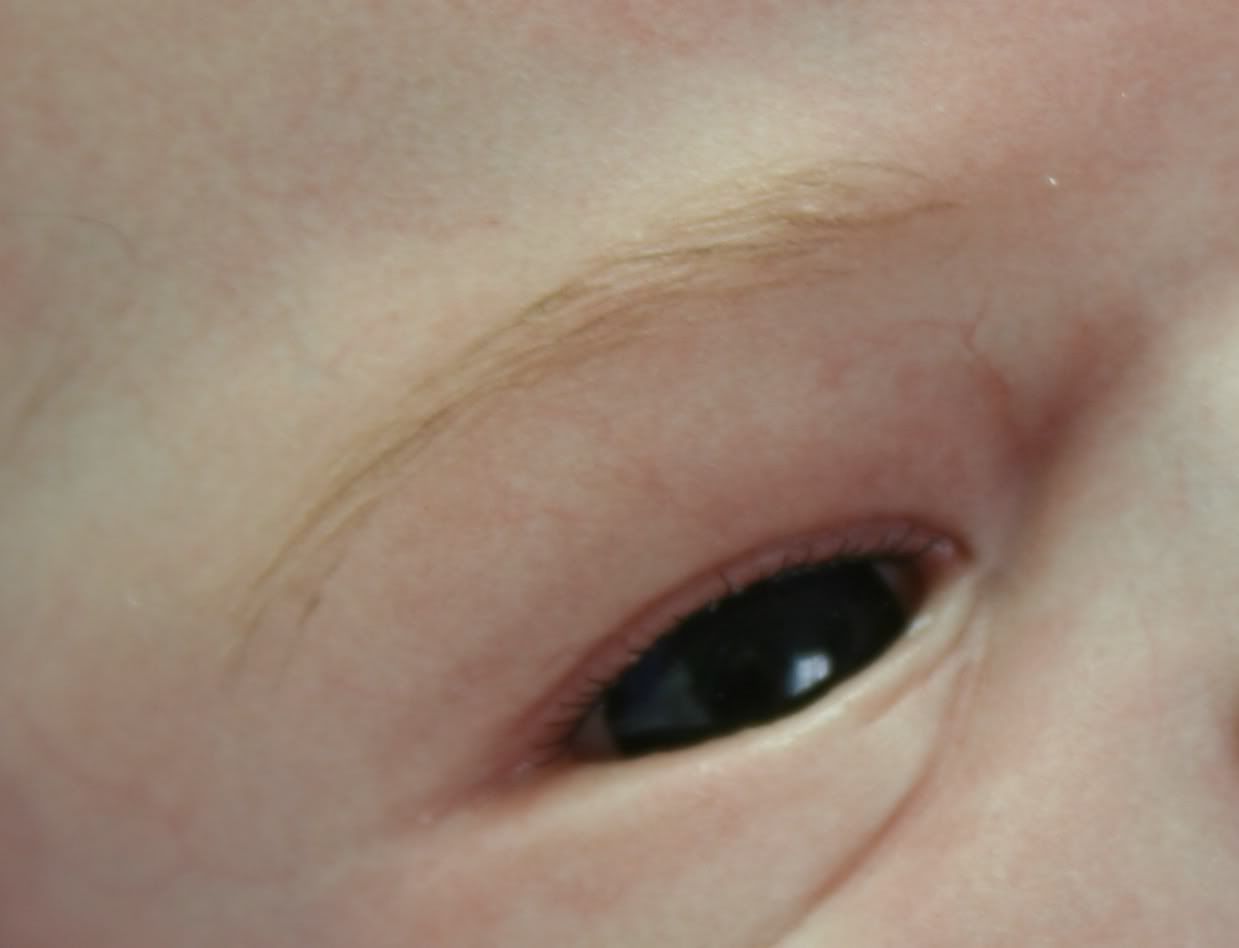 Emmaline  has wonderful  detailed limbs
ive given  the skin on her  arms and legs a slight mottling
her  nail beds have been slightly blushed
Then I've given them  off white transparent nail tips, 
Which Ive then sealed with a satin varnish for durability

Emmaline  has a beautiful jointed cloth body
choosen especialy for her
I take the time to carefully weight my babies in all the right places
so they feel wonderful in your arms
ive weighted  her  tummy with soft sqidgy baby fat
and heavy weight  ultra soft fibre fill,
Ive weighted her  little head with glass beads
her  limbs have been realistically weighted
with ultra fine glass granules,
she   feels so wonderful to hold
I love how she seems to  snuggle into you,
when you pick her  up for a hug ,
her  little head  is very  floppy and will need supporting 
Just like a living infant  just hours old.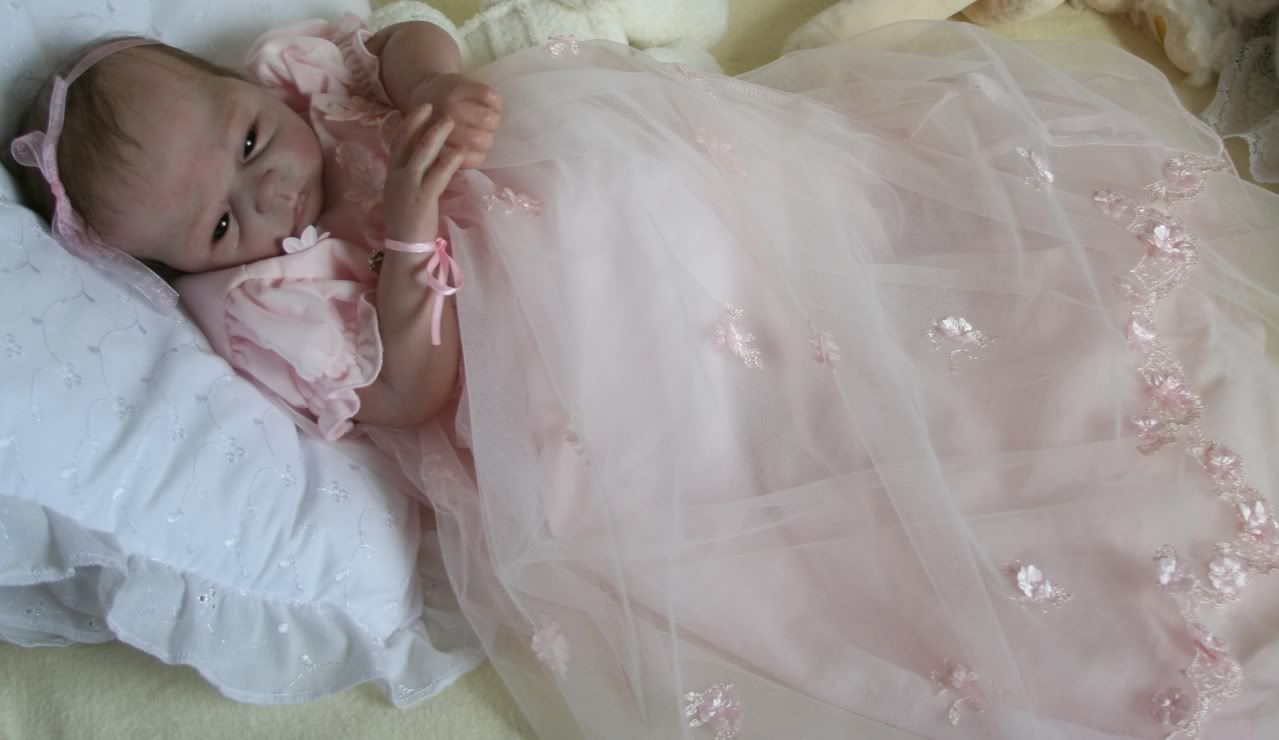 Ive Opened  Emmaline's nose
Then shaded the inside to add depth,
ive also backed her nose with dark felt
then added just a touch of subtle sheen
to give the appearance of a natural slight moisture.
Emmaline's  lips have been painted using several
different shades of paint and highlighted
in all the right places,  I never use a flat colour,
I shade until the lips have a soft plump look
which gives the illusion they would be soft to the touch !!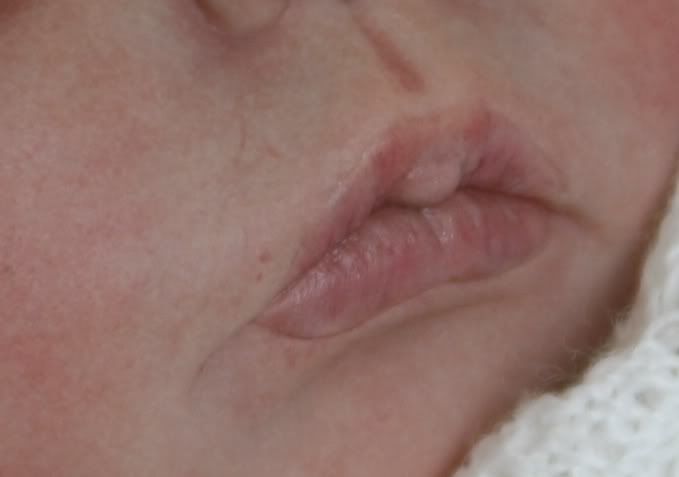 the lips have a the slightest sheen , never over glossed

Ive inserted very strong earth magnets into Emmaline 's head
So she can take a magnetic Pacifier
So much care must be taken.
Around certain electrical items
And people with pacemakers…
(I can remove the magnets if you'd rather not have them.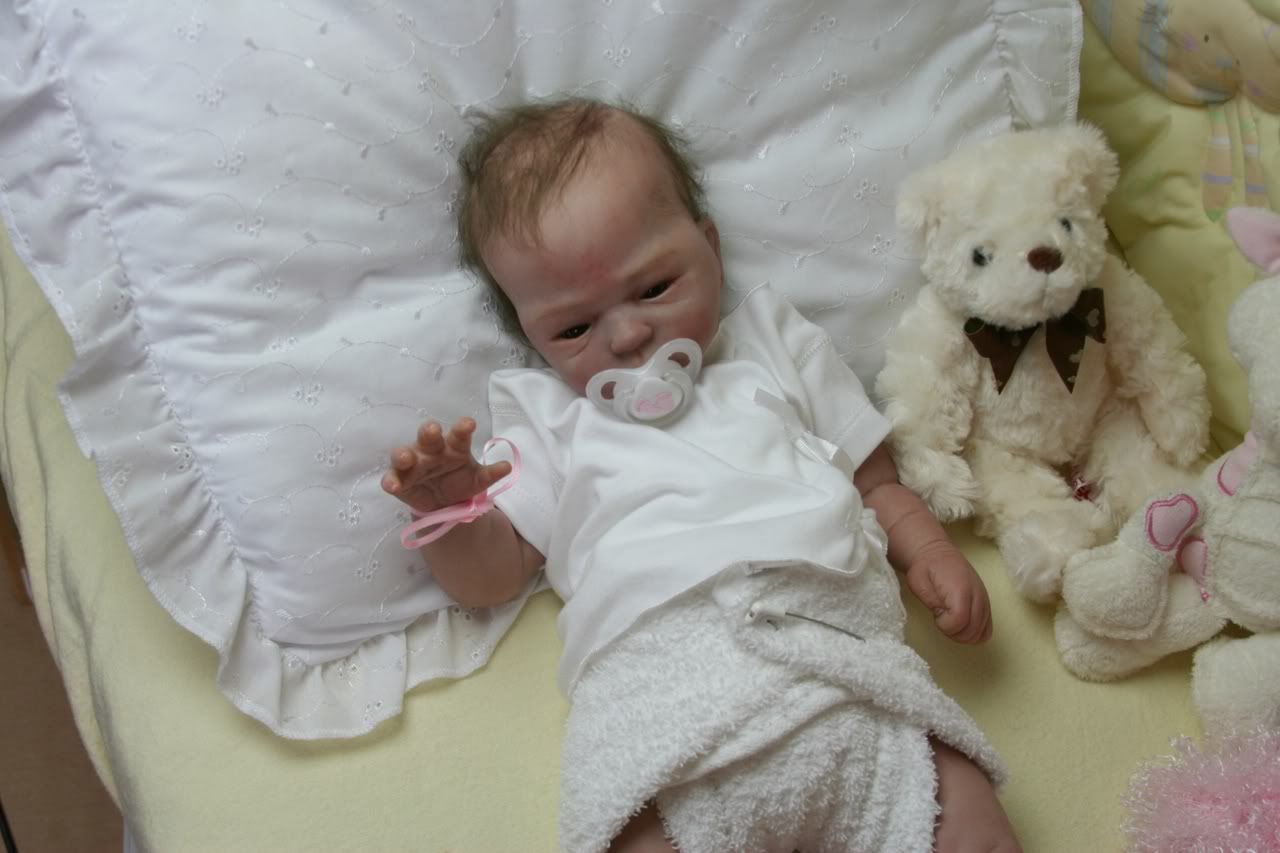 Ive created Emmaline as a collector's item
she is not a toy,
 and therefore not recommended for children
please enjoy even more photographs 
of Emmaline ......................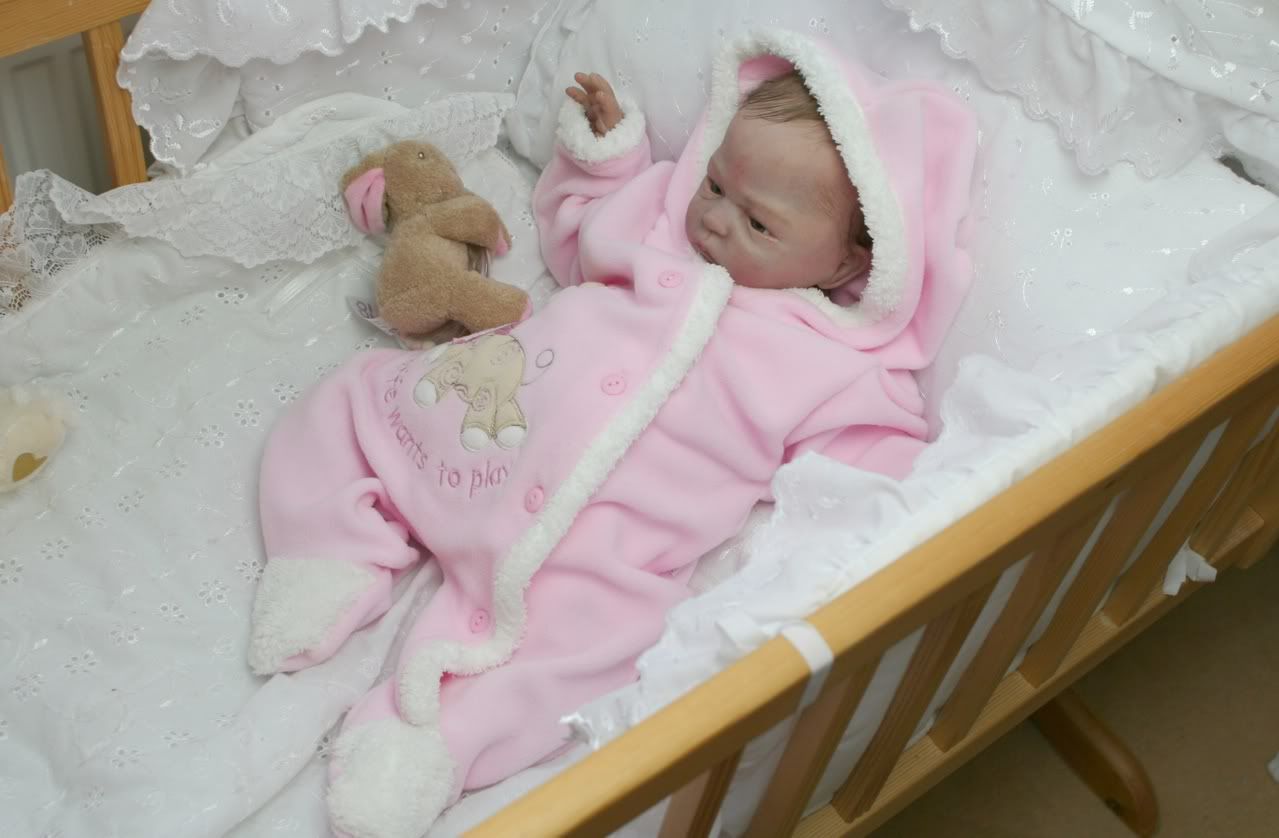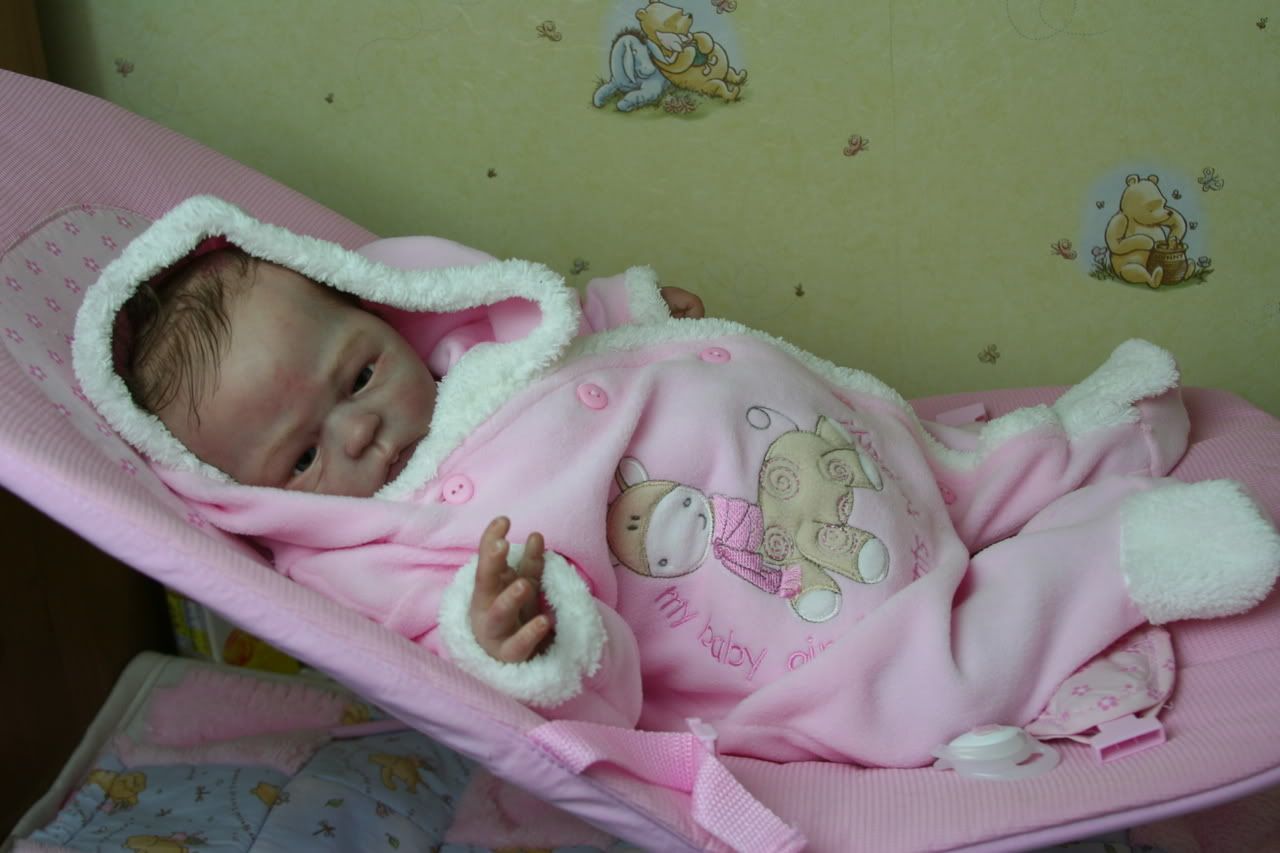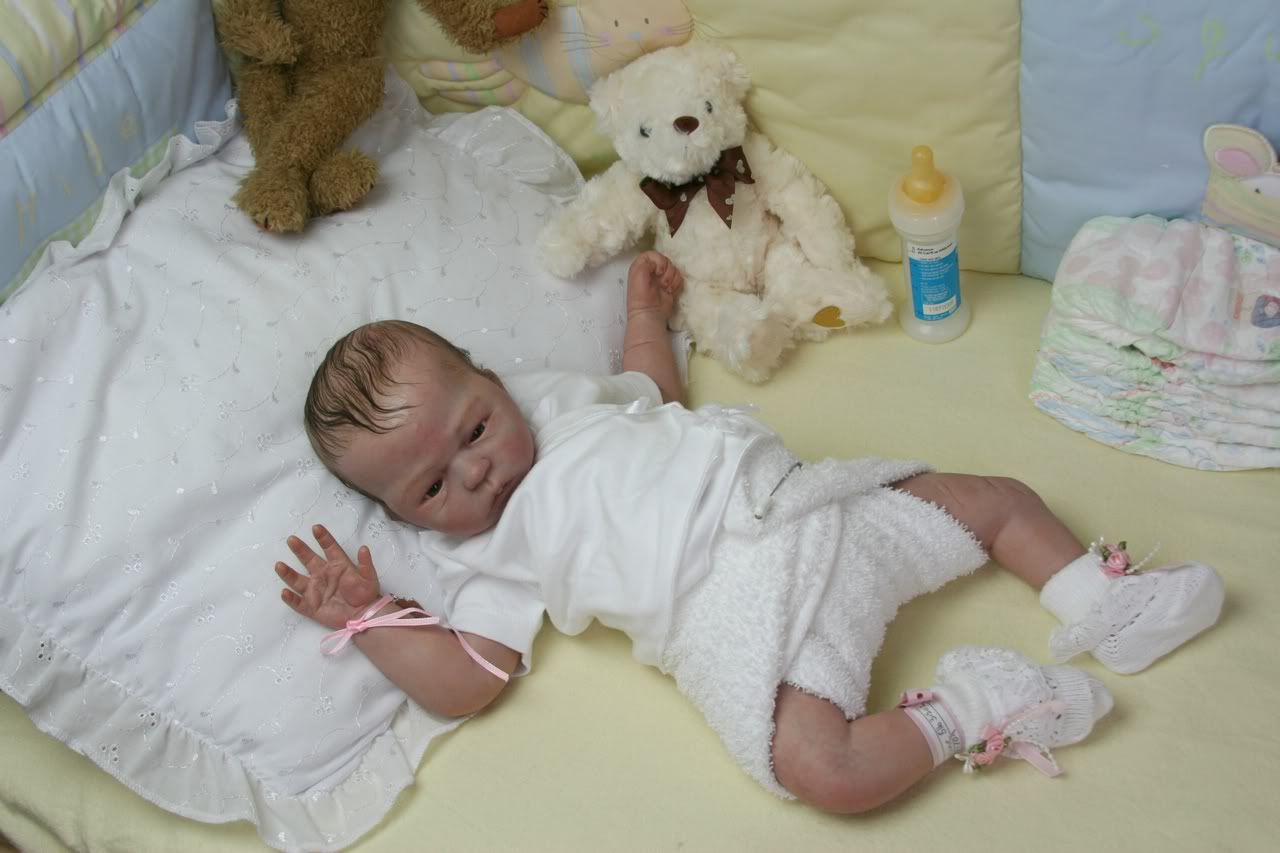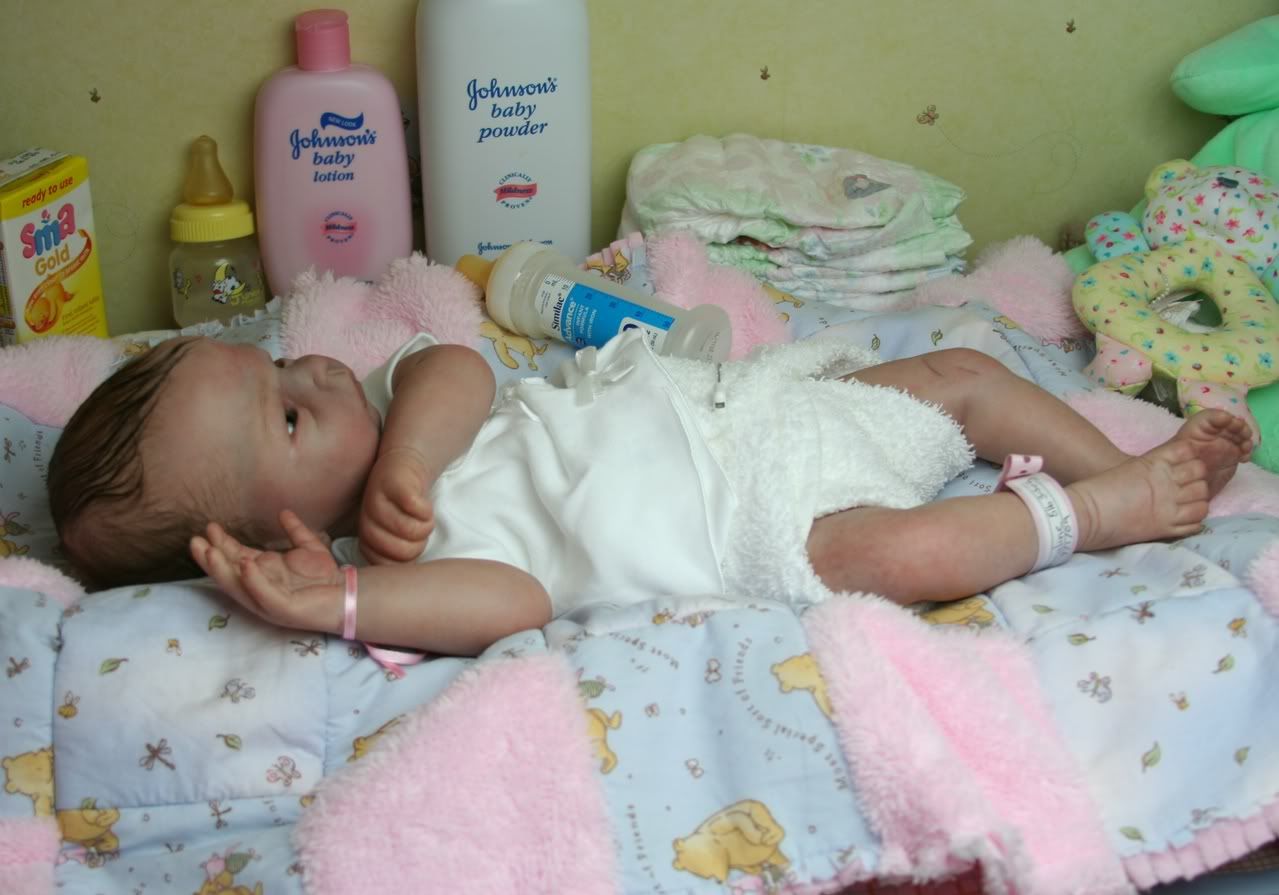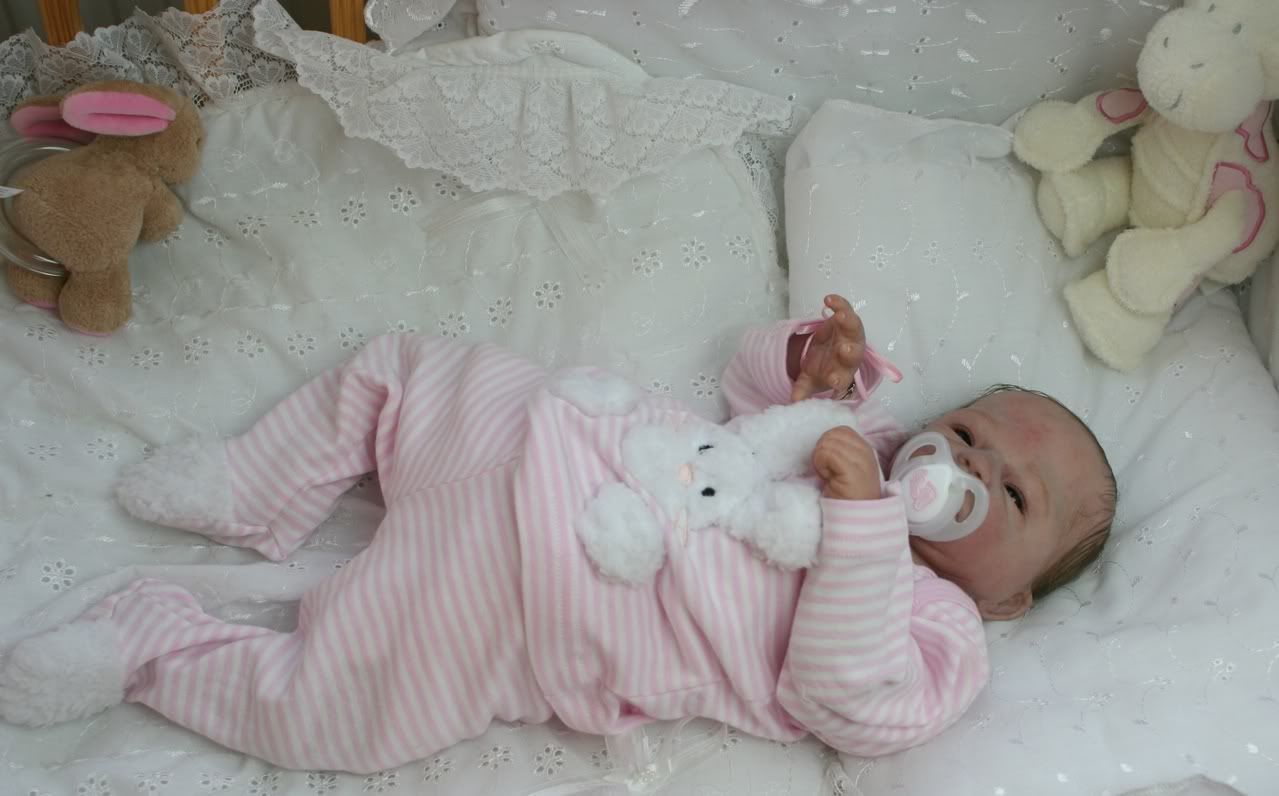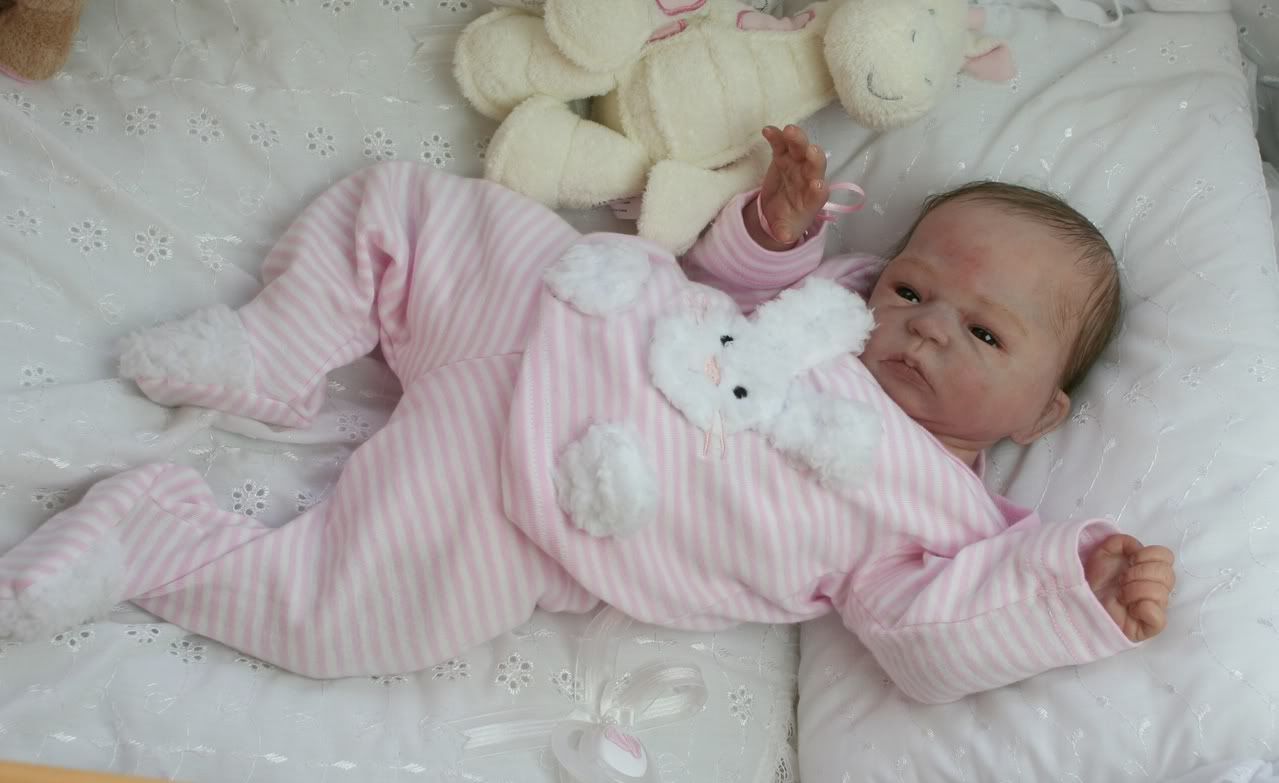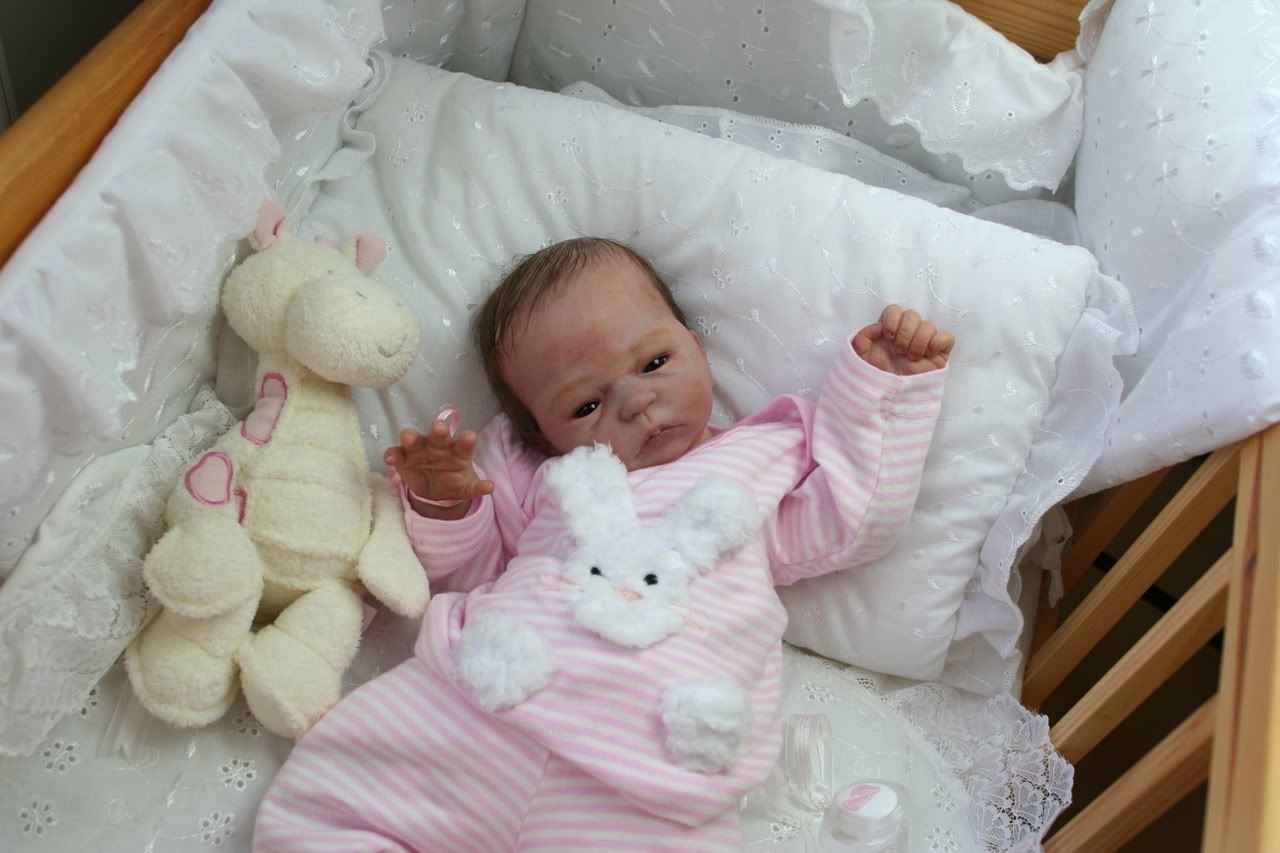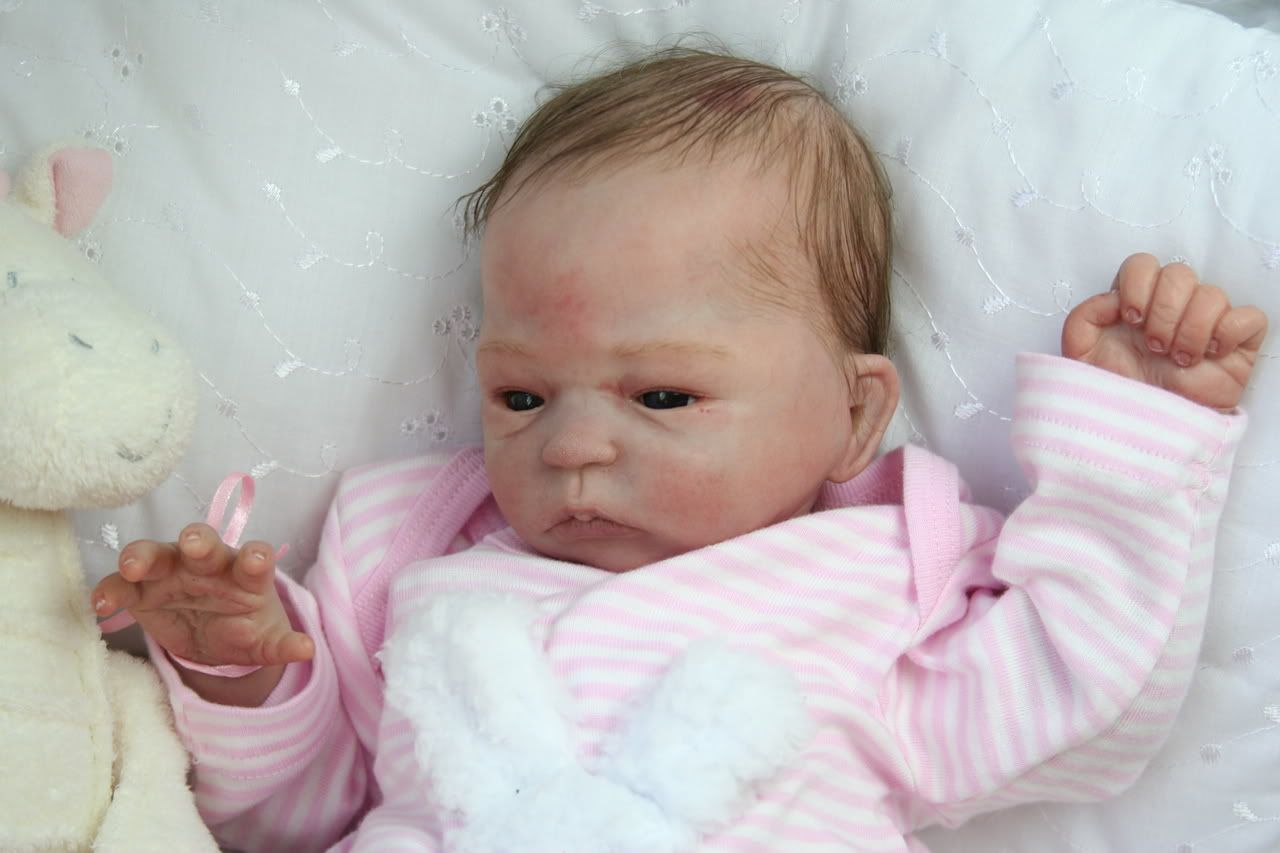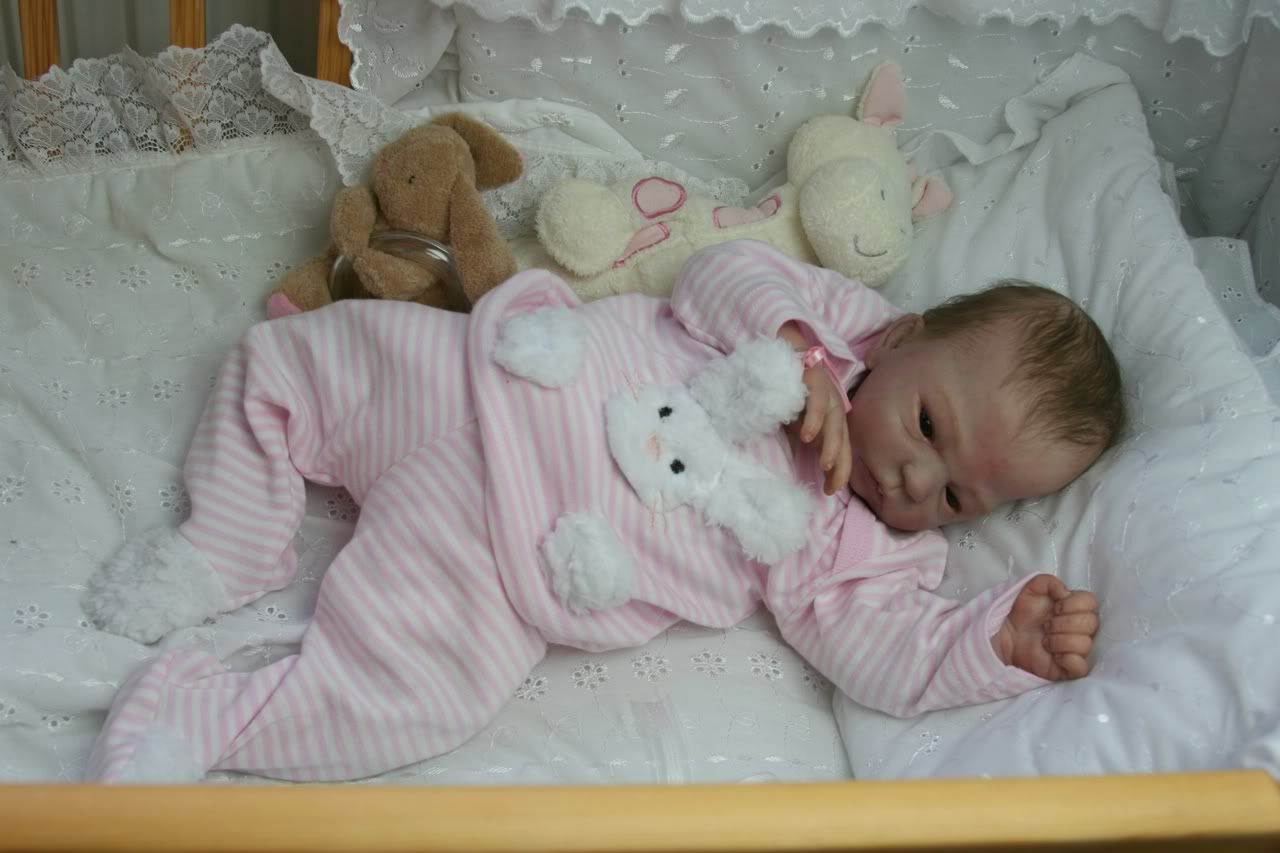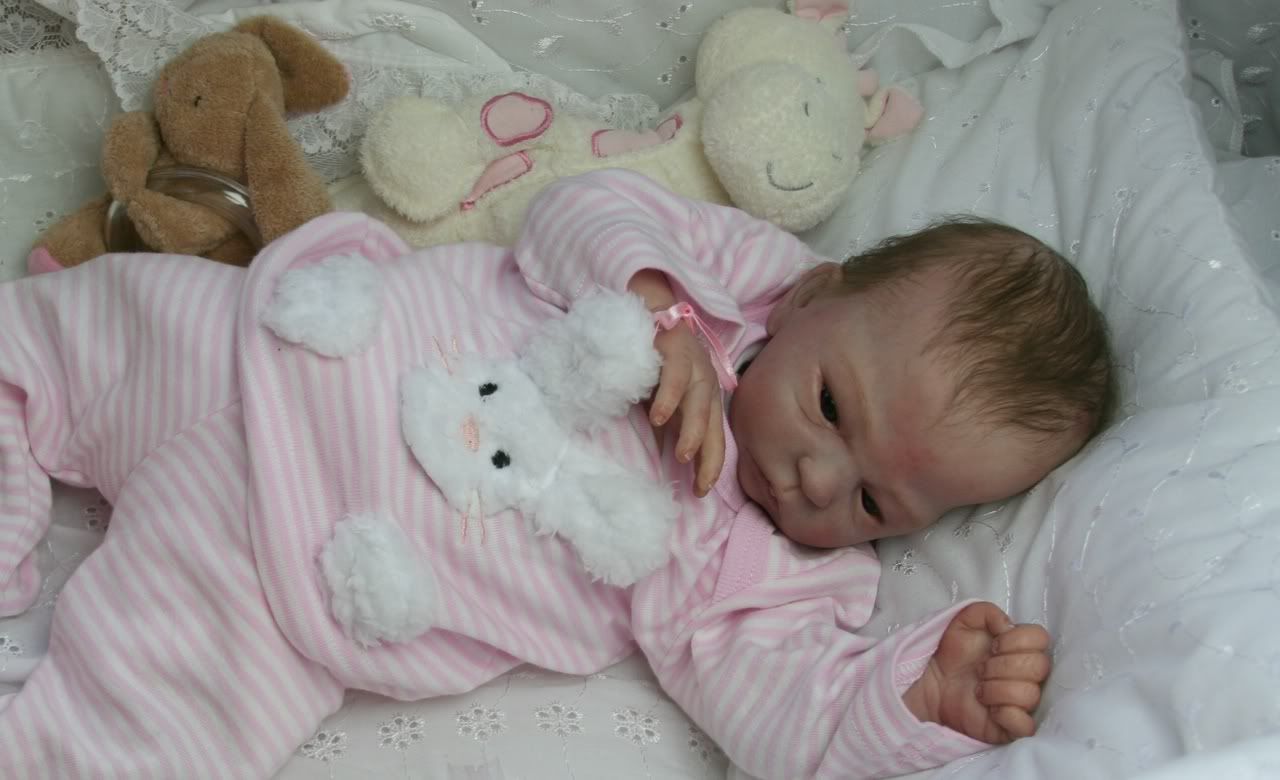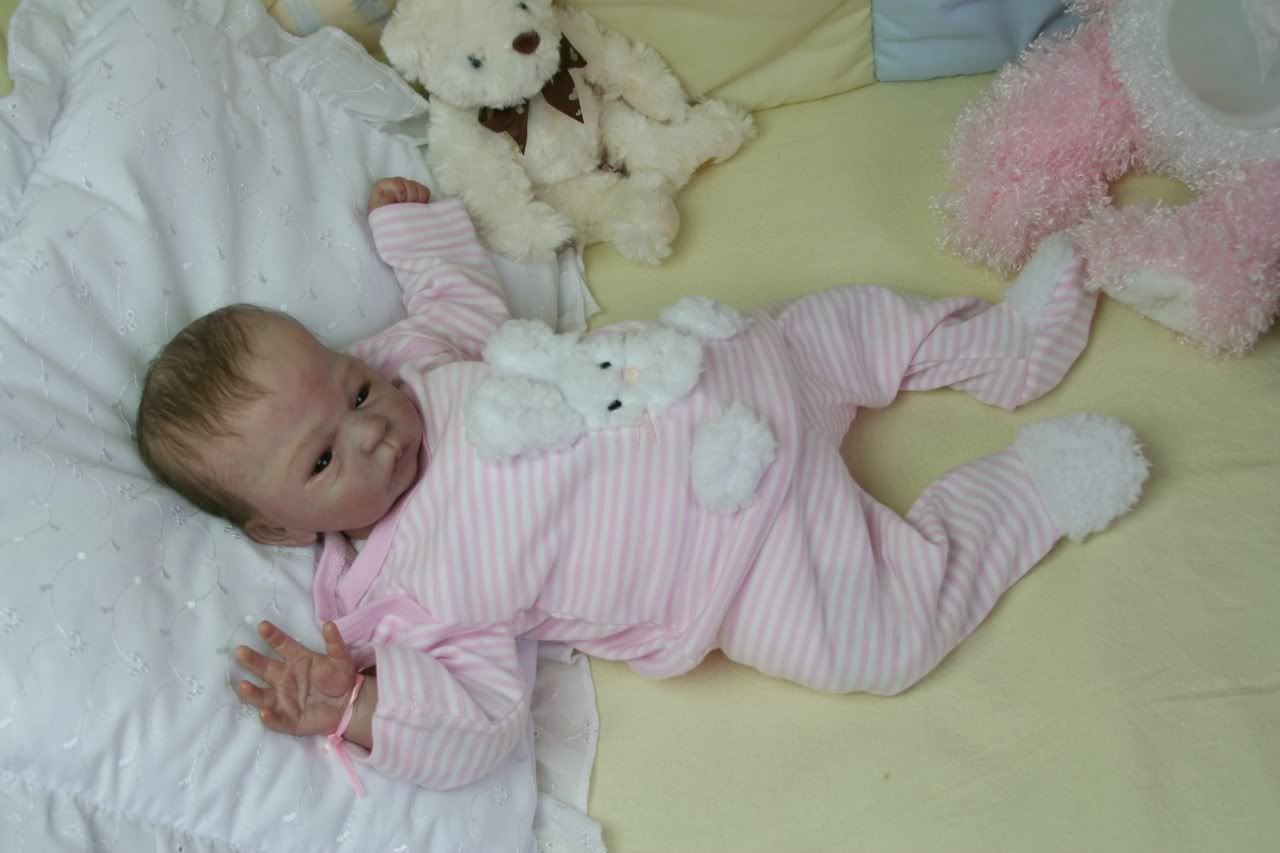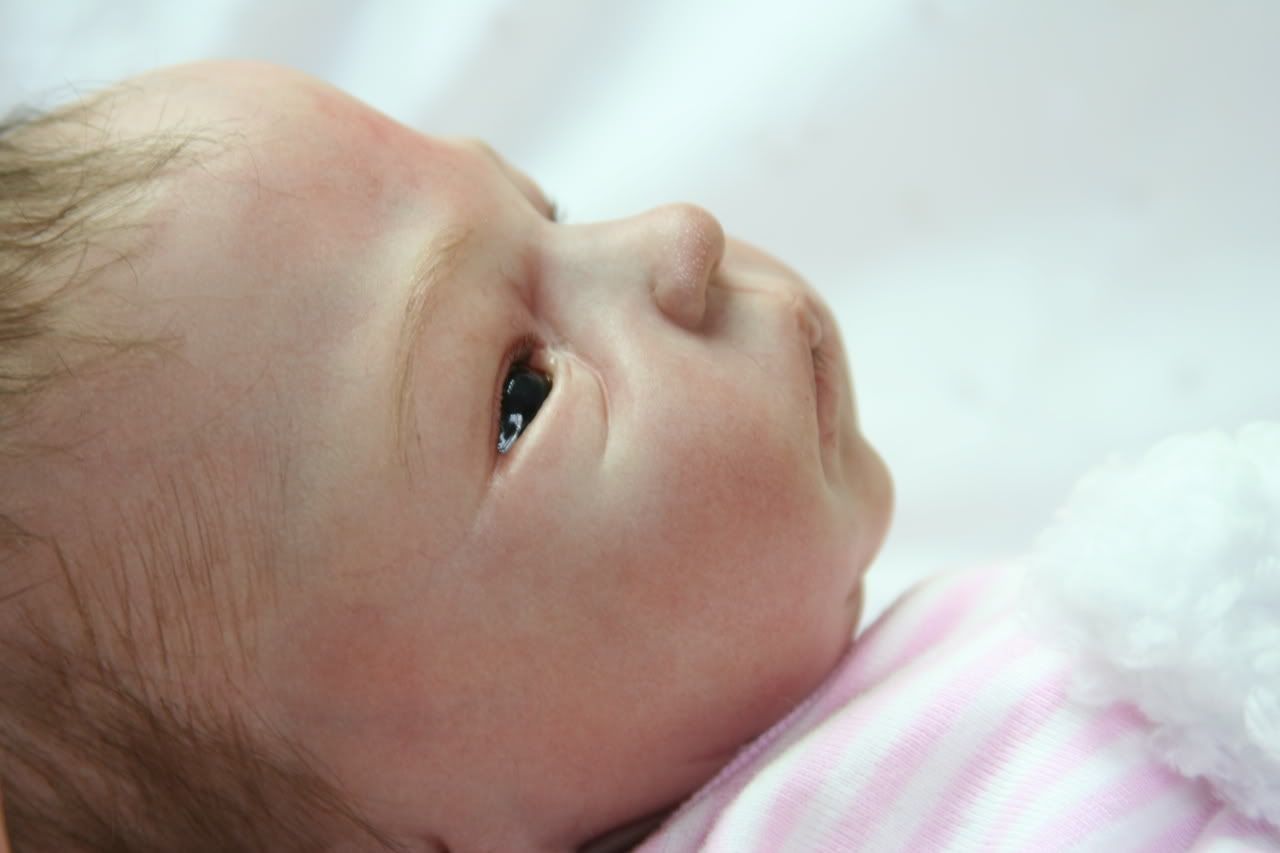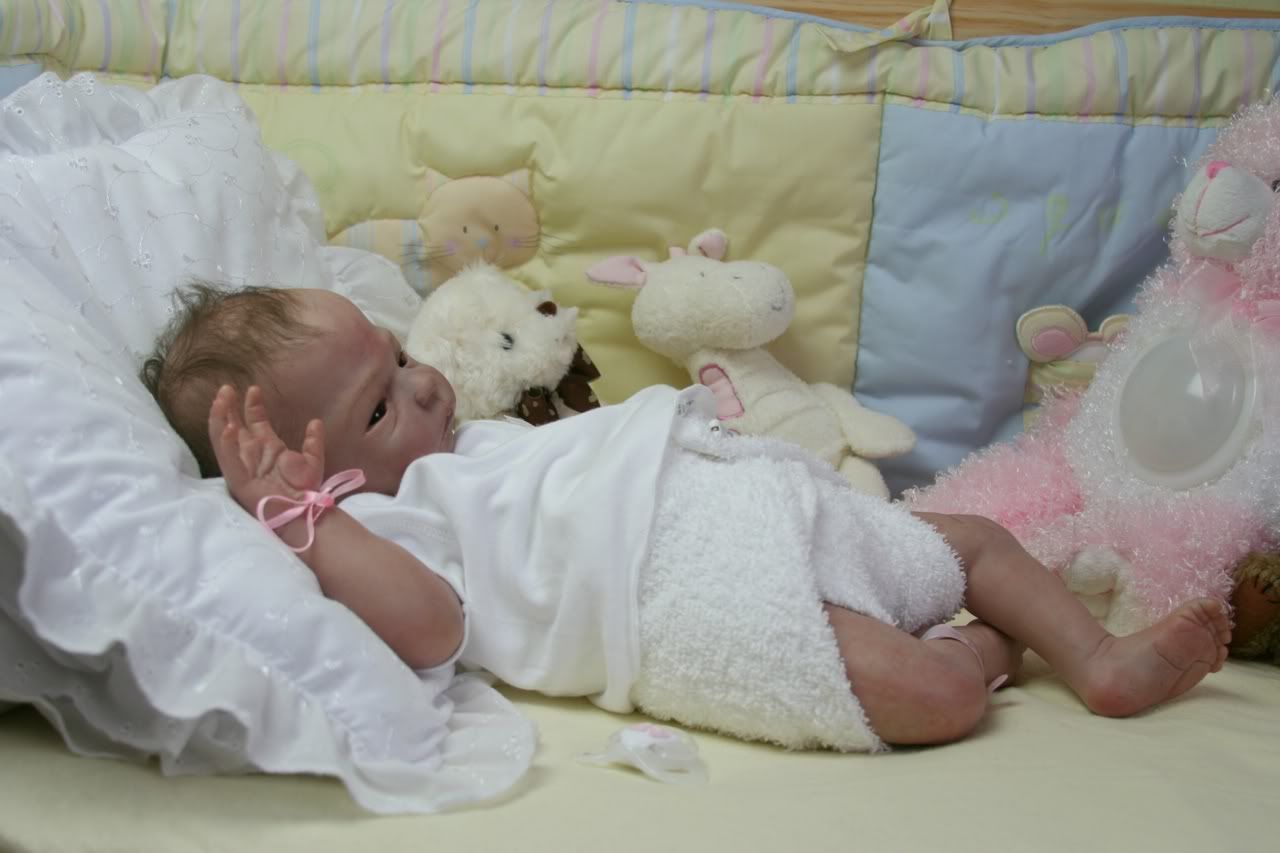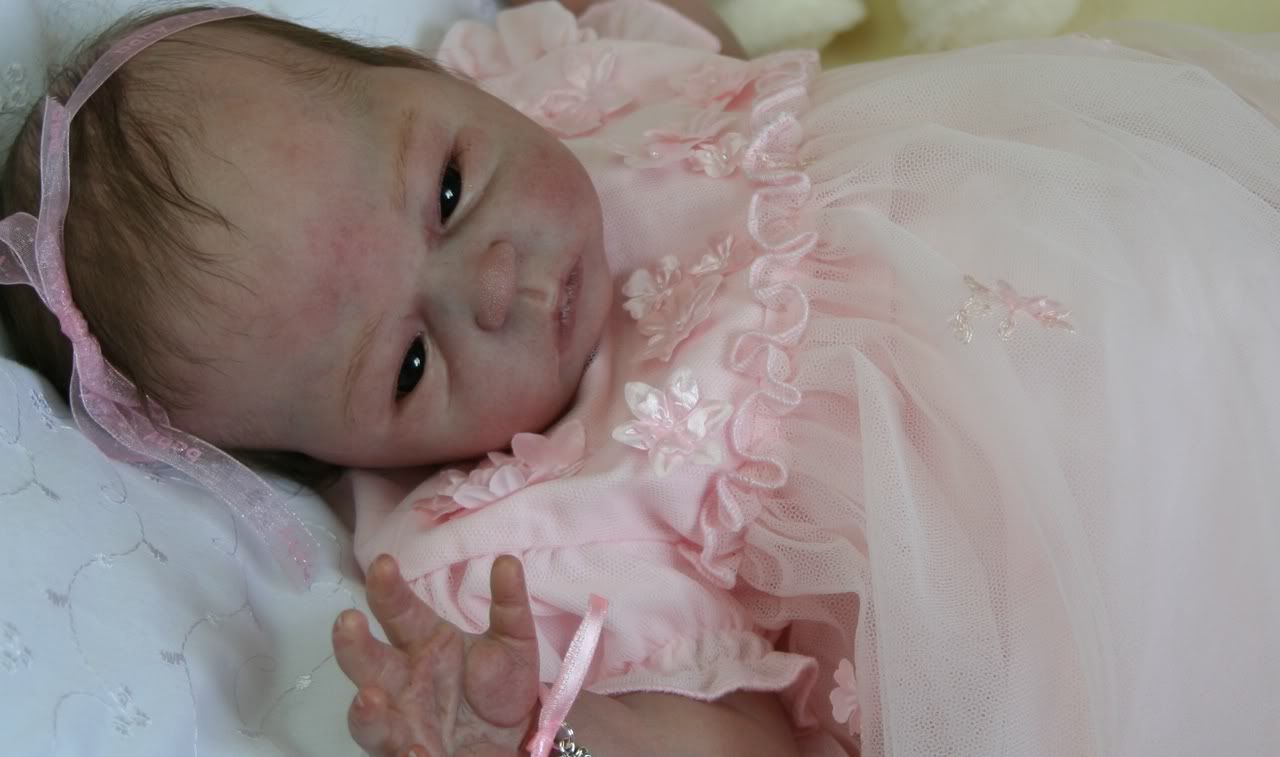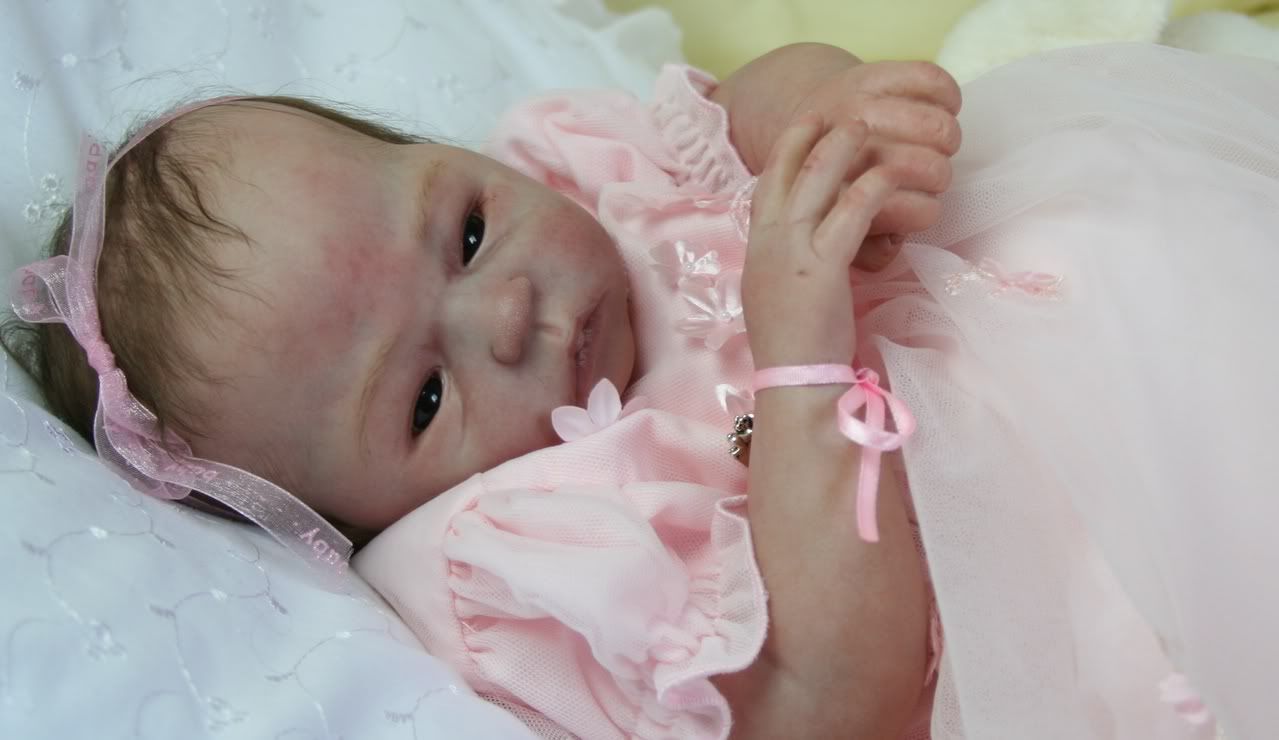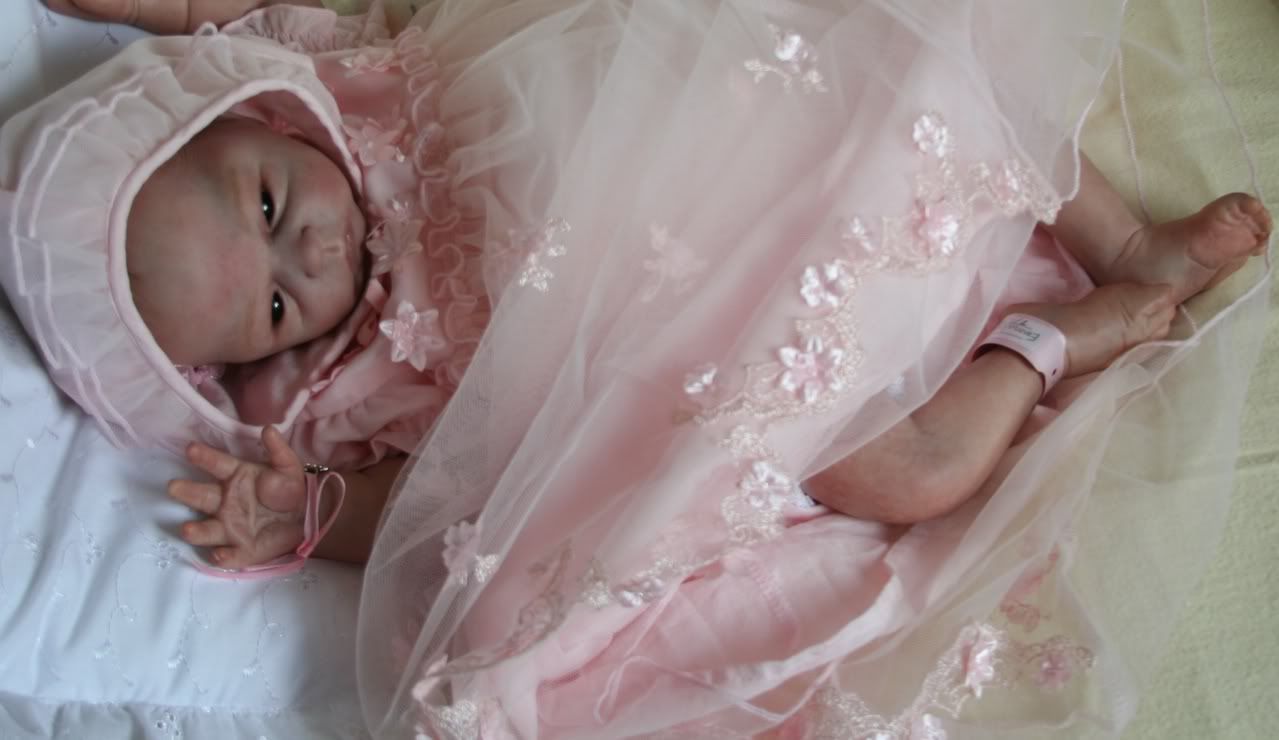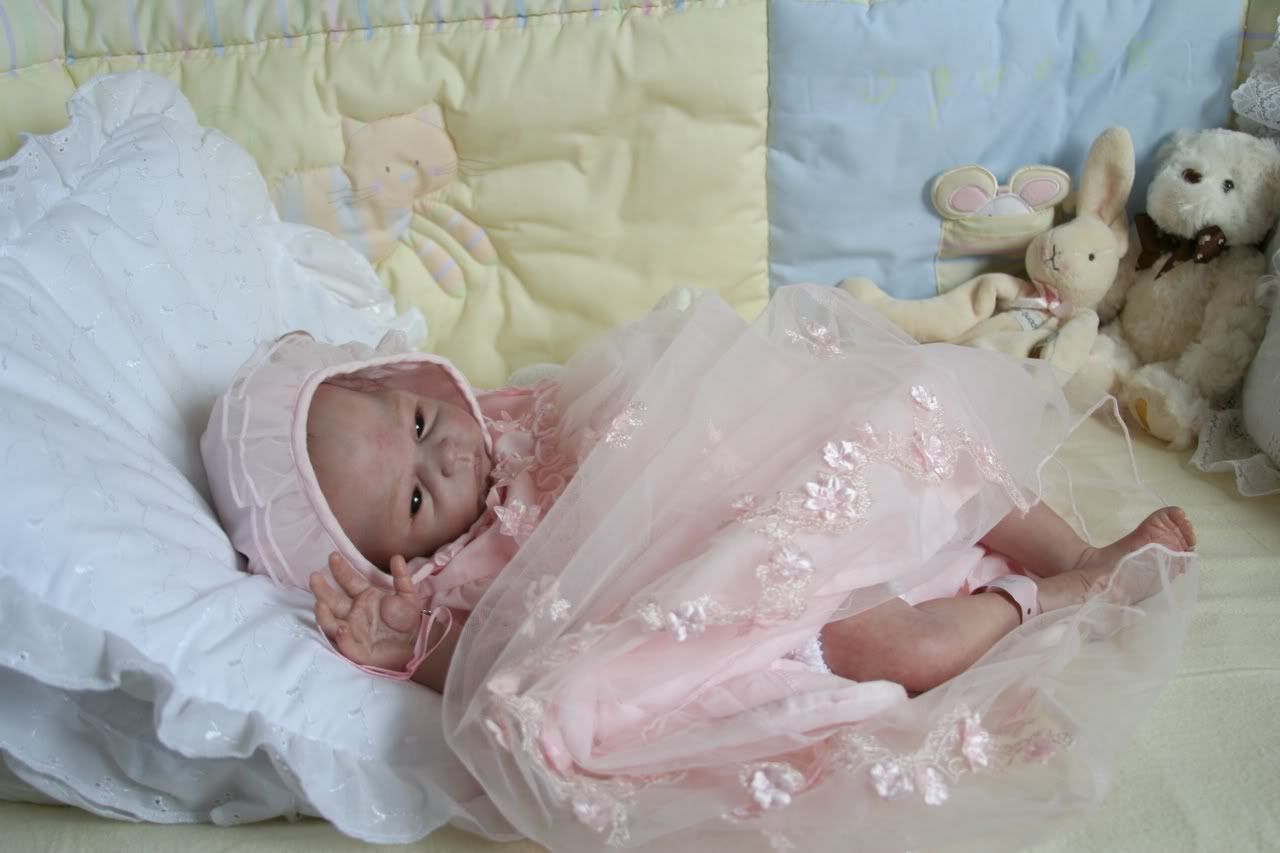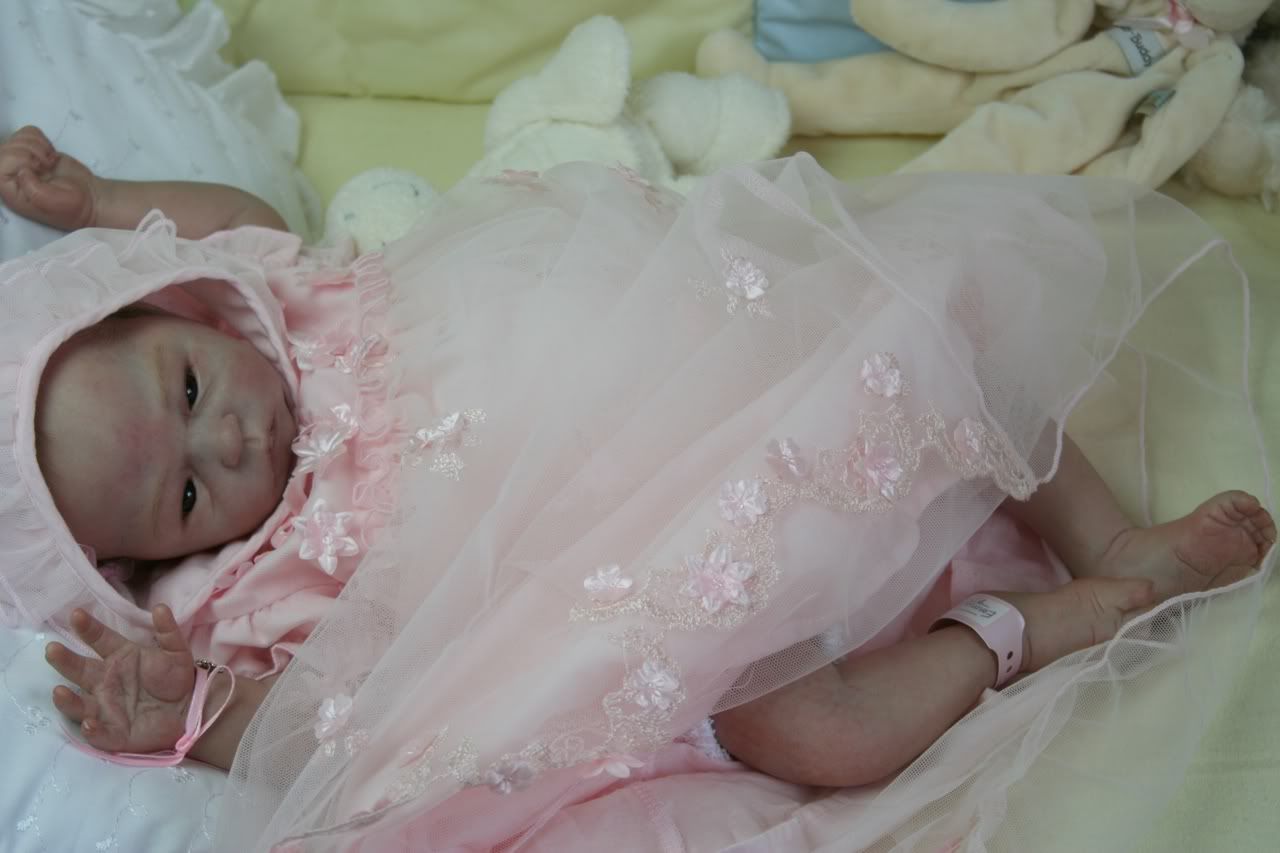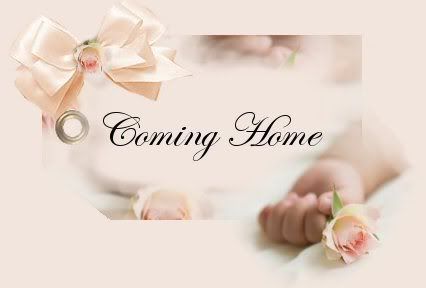 Baby's Layette....
  Beautiful  Designer
 *Baby Biscotti.*  Gown
With  tulle overlays and cotton lining,
the lace trim and floral appliques
 are so pretty. 
comes with matching Bonnett 

Gorgeous  All in one  fur trimmed
 pink fleecy coat.... so sweet

Designer Cach Cach 
pink and white candy  two piece outfit
consisting of long sleeved top with
 fluffy bunnyon the front
and matching pull on trousers
with oh so sweet fluffy bunny tail

Long sleeved onesie with logo on front
(not shown)

 white  frilly lacy socks with sweet rosebuds 

  white /pink magenticPacifier/Dummy'.

  White crossover ribbon tie vest

white terry toweling Diaper/Nappy
with  white Nappy pin

pink and white cuddly Girafe 

Cream teddy  bear with ribbon  neck bow

pretty pink organser hair ribbon

   hospital I.D. bracelet with babys birth details

recieving blanket
 (to keep baby warm on her trip home)

  pink ribbon bracelet with  charm

Pampers Diaper/Nappy

   Signed certificate of Authenticity.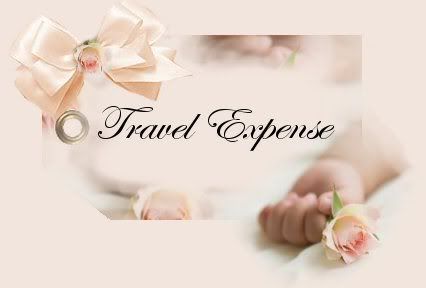 I ship babies worldwide,
I have a fixed price for over seas shippping
and have tried to keep the cost as low as i can
often at a loss  to myself, price is for shipping alone
 I do not charge for packing materials.

I  put my heart and soul into reborning this sweet baby Girl
She really was such a joy to reborn,
 if you need any extra  information  about Emmaline
or want to know where you can purchase the Doll kit
 Please dont hesitate to contact me.
We ship worldwide please contact me for more more details.
               We now offer  12 month payment plans
Guilds and Groups im a proud member of..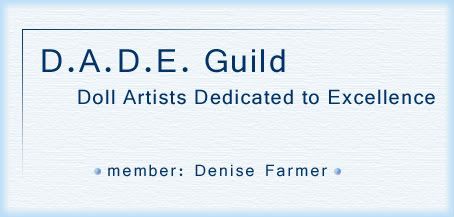 D.A.D.E. guild has been formed to reunite a small group of doll artists and friends committed
to create reborn dolls and baby sculpts 
 that reflect the highest standard of superb quality.
                                                                The purpose of D.A.D.E. guild is to promote quality and professionalism in the two arts
and to cultivate friendship among the member artists.
        Artists showing D.A.D.E. logo support each other's creations and
offer baby dolls you will treasure for the rest of your life.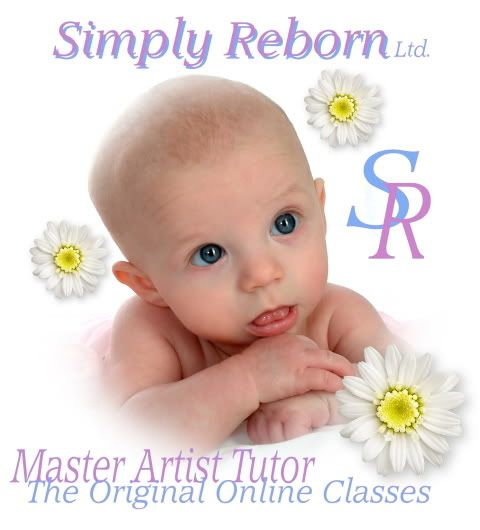 GERBA (Guild of Exceptional Reborn Baby Artistry)
                                         has been created to celebrate and support the talents of Reborn Artists in Europe.
                                        Each of our members has been selected for their outstanding dedication to excellence,
                                  their highly regarded creative innovation and perfection in the art of reborning,
                                                        and their exceptional level of customer care.
                                       Adopting a GERBA Baby will ensure your complete satisfaction
                                                             and a doll of truly heirloom quality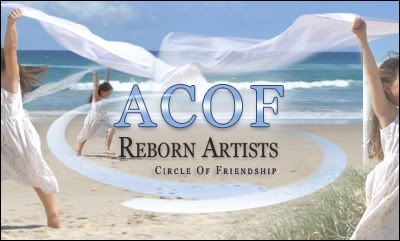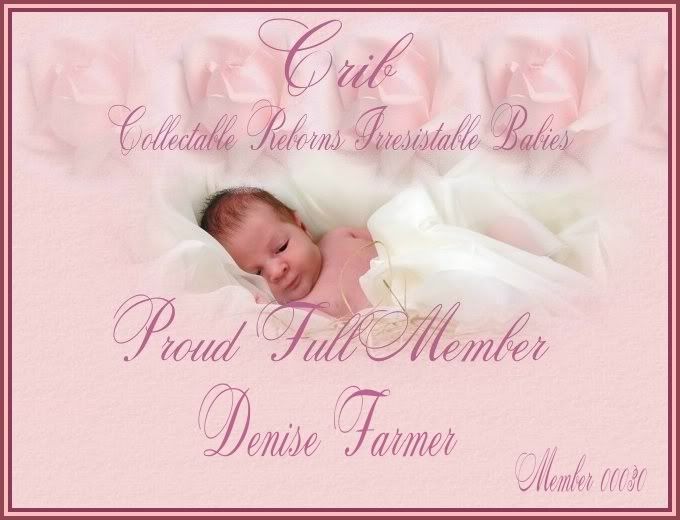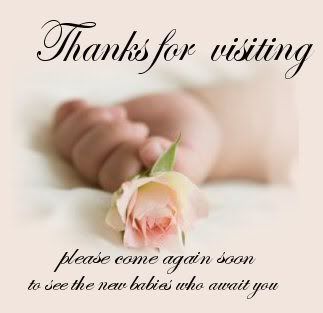 TEMPLATE DESIGN BY TEMPLATESBYLYNN
ALL GRAPHICS PROPERTY OF TEMPALTESBYLYNN